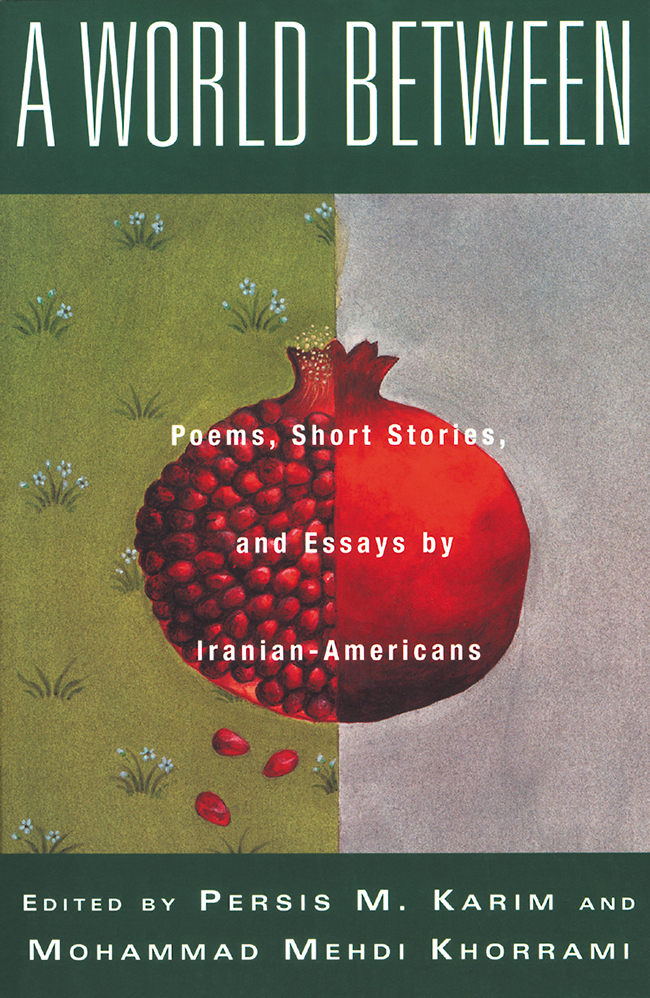 A World Between:
Poems, Short Stories, and Essays by Iranian-Americans
by Persis M. Karim & Mohammad Mehdi Khorrami, eds.
May 17, 1999
Paperback, 224 pages
9.1 x 5.9 x 0.8 inches
ISBN-13: 978-0807614457
$18.50 (Can $20.50)
Iranian Americans, like any other immigrant community, must face the ongoing negotiation between past and present and between their native home and their adopted home. This anthology is the first published collection of writings to give voice to their unique and moving stories, and to explore the Iranian community's continuing struggle to understand what it means to be Iranian in America.
Persis M. Karim was born and raised in the San Francisco Bay Area to an Iranian father and French mother. Her poetry and essays have appeared in numerous national and local publications including Callalloo, Caesura, HeartLodge, Split this Rock, and The Pedestal. She is co editor of Tremors: New Fiction by Iranian American Writers (2013), contributing poet and editor of Let Me Tell You Where I've Been: New Writing by Women of the Iranian Diaspora (2006) and co editor of A World Between: Poems, Short Stories and Essays by Iranian Americans (1999). She has written numerous essays about literature and culture of the Iranian diaspora for academic journals such as Iranian Studies, MELUS: Multi-Ethnic Literature of the United States, and Comparative Studies of South Asia, Africa, and the Middle East. She received her master's degree in Middle East Studies and Ph.D. in Comparative Literature from University of Texas at Austin. She teaches literature and creative writing at San Jose State University in California. She can be reached at: persis.karim@sjsu.edu.