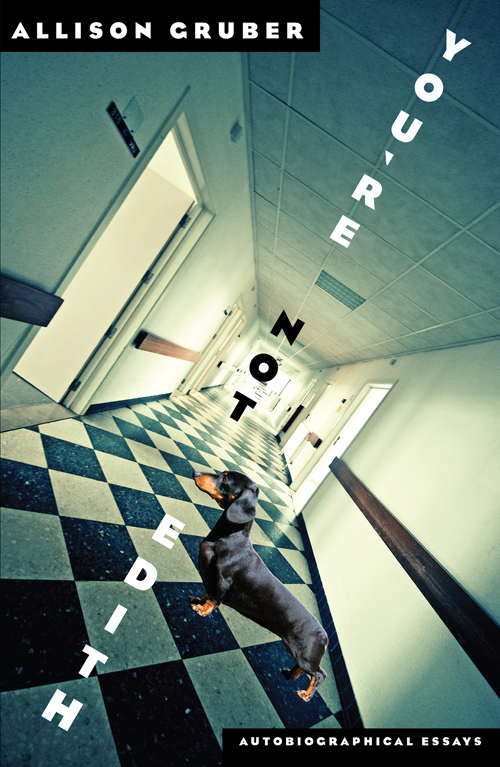 You're Not Edith: Autobiographical Essays
by Allison Gruber
February 15, 2015
Paperback, 160 pages
8.25 x 5.37 x 1 inches
ISBN-13: 978-0807600054
$15.95 (Can $18.95)
"A kaleidoscopically engaging read. ...in-your-face-funny and heartbreakingly sad." -Booklist
"[These essays are] especially moving for their simplicity and for Gruber's honest, straightforward manner of storytelling. The result is a slim but powerful book." -Publishers Weekly
"Allison Gruber sews what she calls 'a hemline between life and death' with candor, bracing good humor and very satisfying prose. How many cancer sufferers comfort themselves by singing 'It's Friday in the cit-tay and I've only got one eyebrow'? This is a wonderful book." -Rosellen Brown, author of Half a Heart and Before and After.
A brazenly funny, poignant memoir.
This gutsy collection offers a brilliant reflection on life as a young lesbian and breast cancer survivor. Through discussions of madness, religion, gender and feminism, Allison Gruber captivates with heartbreaking candor and wit. From her teenage Dian Fossey to her Virginia Woolf of Drama Club, the author invites us into a world of brash, bookish hilarity, as she navigates an unusual life, interrupted. In You're Not Edith, Gruber asks herself how best to live and finds answers big enough for all of us.
Allison Gruber's prose has appeared in a number of literary journals, and in the anthology Windy City Queer: Dispatches from the Third Coast. She has been a poet-in-residence with The Poetry Center of Chicago. She holds an MFA in Writing from The School of the Art Institute of Chicago. She lives with her wife in Flagstaff, AZ.